Tag Archives:
Christian Fabian
Sitka Jazz Week is in full swing! Christian Fabian and Ed Littlefield of the Native Jazz Quartet are joined by Grammy-winning singer Cheryl Bentyne, of the vocal group Manhattan Transfer.
Downloadable audio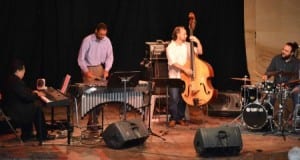 The Native Jazz Quartet is hosting a jazz workshop in Sitka this week, with an emphasis on arranging cultural music within jazz compositions. Ed Littlefield (drums) and Christian Fabian (upright bass) talk about the goals of the workshop and their upcoming performance as the Native Jazz Trio, with pianist Reuel Lubag, this Saturday (07-18-15) at 7 p.m. at the Odess Theater in Allen Hall.
Downloadable audio.
Jazz singer Dee Daniels taught a workshop for vocalists this week. Tonight (7PM, Rasmuson Center, free) her students will perform. With Native Jazz Quartet bassist Christian Fabian. Daniels says jazz promotes an authentic technique -- there is no room for auto-tuning or other technology in the jazz method.