Tag Archives:
domestic violence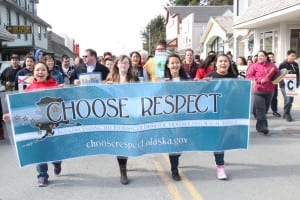 Students from Mt. Edgecumbe and Sitka High Schools joined community members, Sitka's domestic violence task force, and a contingent of State Troopers, among others, as they marched through downtown on Thursday (3-27-14), as part of the 5th annual "Choose Respect" rally to raise awareness of domestic violence.
From a young age, kids learn how to stay safe. They memorize their phone numbers, learn about stranger danger, and wear helmets when they ride their bikes. But some of the things they learn are more subtle, like to trust their intuition.
Children's brains are like sponges. They soak up languages and absorb impressions of the world. But this also means their minds retain bad experiences, like domestic violence.