Tag Archives:
Sitka Salmon Shares
If you've spent any time enjoying a drink at Baranof Brewery, you may have glanced across the street and wondered what's going on behind the doors at Sitka Salmon Shares. It's been over a year since the company purchased the Big Blue processing plant and, slowly but surely, they're turning the space into one that suits their needs.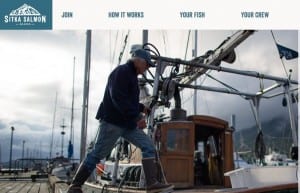 Launched 5 years ago, Sitka Salmon Shares now has over 2,000 customers who buy seafood across the midwest. The company just purchased Big Blue Fisheries in order to expand its operations.
A college professor who studies food systems is putting his money where his brain is. Nic Mink has spent the past two summers in Sitka meeting fishermen and learning about the economy salmon trolling. Now, he's launched a business to connect individual fishermen (like Marsh Skeele, pictured above) with consumers in the Midwest.