Tag Archives:
Sitka WhaleFest
Don Sineti is the official Sitka Whalefest Shantyman. He's been coming to Sitka for the festival for 15 years to perform music connected to maritime history. He chats about how he began visiting Southeast for the annual festival.
Downloadable audio.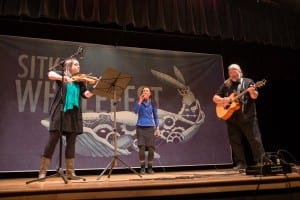 Sitkans and visitors alike packed the seats in Harrigan Centennial Hall on Friday night for the Maritime Grind, which accompanied this year's Whalefest. Kammie Daniels, Cara Brenton and Ted Howard rocked the house with their rendition of Otis Redding's (Sittin' On) The Dock of the Bay.
What's it look like inside an octopus? You probably don't want to know, at least first-hand. That's unless you're a student dissecting one during this month's Sitka WhaleFest.