by Robert Woolsey, KCAW | Apr 19, 2019
A Sitka doctor charged with sexually assaulting a patient has pleaded not guilty, and will stand trial this summer at the earliest.
by Jacob Resneck, CoastAlaska | Apr 19, 2019
The Alaska-class ferry Tazlina is expected to take its maiden voyage on May 7. Records released to CoastAlaska show planning is underway to add a second Juneau ferry terminal to shorten travel time.
by Enrique Pérez de la Rosa, KCAW | Apr 19, 2019
Many nonprofits have revenue from several sources, and are not solely dependent on state funding. Nevertheless, funding streams are connected, and the ability to win grants often depends on a demonstration of government support.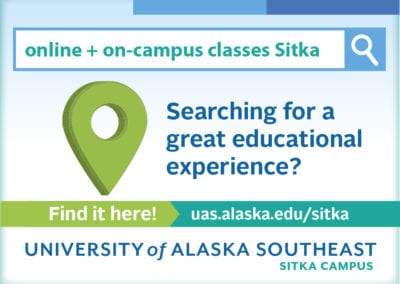 Raven Radio's Spring Drive just wrapped up- thank you to all who contributed! If we missed...
Behind every quilt, there's an idea and a story. And the same is true for the historied Annual Ocean Wave Quilters Quilt Show, an exhibition of new quilts now in its 37th year.
Dr. Andrés López is the Sitka Sound Science Center's Scientist in Residency Fellow this spring. He is an ichthyologist at the College of Fisheries and Ocean Sciences at the University of Alaska Fairbanks whose research focuses on the genetics of fish.
SCH August18
UAS Regional
Silver Basin Logo
NOAA_BUTTON
latest_newscast
Community Calendar