by Erin McKinstry, KCAW | Aug 7, 2020
The Department of Housing and Urban Development announced Friday that the Tribe will receive $900,000 as part of the Indian Community Development Block Grant Imminent Threat program. Congress allocated an additional $100 million to the program this spring as part of the federal coronavirus relief funding package.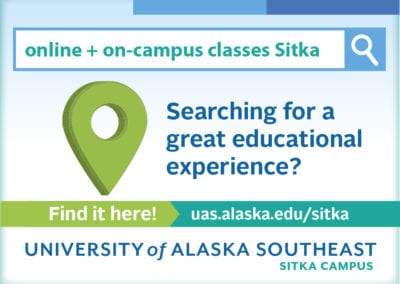 KCAW is tracking cancellations, closures, and other news related to the local response to the COVID-19 pandemic.
Have you noticed new boats in Sitka's harbors? That's because the Coast Guard has some crews up from the lower-48. Capt. Stephen White is the sector commander for the United States Coast Guard in Juneau. He joins KCAW's Katherine Rose to discuss _______________.
Food insecurity among students is a concern during a normal summer. But this summer, because of economic hardship brought on by the coronavirus pandemic, that concern is even greater. The USDA Summer Food Service Program has existed for some time to help fill that gap, but this is the first time it's operating in Southeast Alaska.
Although the in-person experience has been cancelled this summer, cello students are still having one-on-one interaction with some of the best classical teachers and performers in the country.
From the KCAW archives, summer 2012: Caitlin Woolsey, daughter of KCAW news director Robert Woolsey, is a self-described berry addict. This is her twist on The Alaska Wild Berry Cookbook's "Salmonberry Cream Pie." A recent dinner guest (from a land with no salmonberries) took one bite and said, "This pie is mind-blowing!"
Subway
latest_newscast
ToSEAK button
A Moment Together
Community Calendar
Instagram