by Katherine Rose | Feb 21, 2020
US Senator Lisa Murkowski took time during the congressional recess to make a swing through Sitka this week. She did all the expected things, like addressing the Chamber of Commerce and meeting with community leaders to discuss funding priorities. And the senator did one unexpected thing: She spent the afternoon in a talking circle with just over a dozen students at Pacific High School -- where one of the most influential voices in Washington had to wait her turn.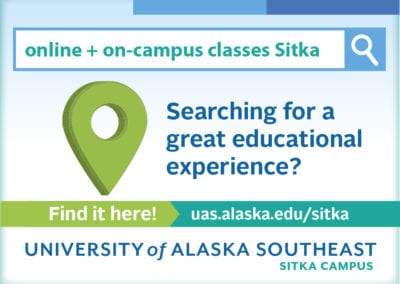 Raven Radio is launching a new call-in radio program on Wednesday, February 26th called Talk of...
Susan Suarez joined KCAW's Erin Fulton to discuss the third annual Sitka Elks Lodge wine tasting event, with food, wine, and live entertainment by Emily Vicker. Listen here:
Daily Sitka Sentinel Sports editor Garland Kennedy brings us up to speed on the Battle of the Bridge basketball series between Sitka High and Mt. Edgecumbe. Also, Kennedy has results from last week's age-group swim meet in Ketchikan -- and some exciting news about a Sitka High Cross Country standout. With KCAW's Robert Woolsey.
Hames Center director Dawn Johnson and film selection committee member Lione Claire joined KCAW's Erin Fulton in the studio to discuss the lineup of films for this Friday's Banff Mountain Film Festival. Listen here:
Pianist Chris Staknys and clarinetist Colin Roshak and Sitka Fine Arts Camp director Roger Schmidt joined joined KCAW's Erin Fulton in the studio to discuss their upcoming concert. February 22, 2020 at 7pm in the Sitka Performing Arts Center. Listen here:
by KFSK Petersburg | Feb 26, 2020
Steve Reifenstuhl reflects on salmon enhancement in Alaska at the Petersburg Chamber of Commerce...
by KFSK Petersburg | Feb 25, 2020
Rotary club president-elect Bennett McGrath has one food collection box at Anchor Properties to...
by KFSK Petersburg | Feb 25, 2020
Cate Kowalski, Erica Worhatch, Heidi Lee and Cynthia Mathisen receive plaques created in the...
Mattak, sea mammal blubber (Lisa Risager/Creative Commons) After some uproar on social media, a...
Angoon, pictured here in 2017, is home to about 460 people. (Photo by KCAW Raven Radio) Some of...
The wreckage from the Yute Commuter Service plane that crashed Feb. 6 was strewn across almost 400...
In a few short years, Scotland has turned periods from a stigmatized subject to a selling point....
The Court of Appeal said the major international hub's plans for an additional runway failed...
Axios reporter Jonathan Swan says the president has "crossed a psychological line" since impeachment, developing a list of disloyal officials to oust — and suggesting loyalists to replace them.
latest_newscast

Copper Whale
ToSEAK button
Community Calendar
Instagram