by Enrique Pérez de la Rosa, KCAW | Apr 22, 2019
itkans marched in costume down Lincoln Street Friday, April 19, for the 18th Annual Parade of Species, a celebration of Earth Day and stewardship for our environment organized by the Sitka Conservation Society.
by Katherine Rose | Apr 22, 2019
Earlier this month, the University of Alaska Southeast invited community organizations to its Sitka campus to discuss how state funding cuts would affect them. In part three of our series revisiting that conversation, KCAW's Katherine Rose reports on the healthcare panel.
by Robert Woolsey, KCAW | Apr 19, 2019
A Sitka doctor charged with sexually assaulting a patient has pleaded not guilty, and will stand trial this summer at the earliest.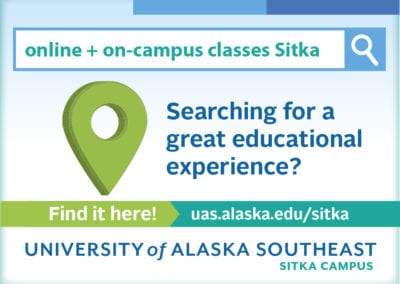 Raven Radio's Spring Drive just wrapped up- thank you to all who contributed! If we missed...
The opioid epidemic has had an impact in communities across the country, including Sitka. But opioid abuse is preventable. One way to do that is by properly disposing of unused opioids in your home.
Behind every quilt, there's an idea and a story. And the same is true for the historied Annual Ocean Wave Quilters Quilt Show, an exhibition of new quilts now in its 37th year.
by Jacob Resneck, CoastAlaska | Apr 24, 2019
A recent business climate survey found owners and managers had deep misgivings over deep cuts proposed by the Dunleavy administration. Southeast Conference has conducted the annual survey since 2014.
by KRBD Ketchikan | Apr 24, 2019
The Norwegian Bliss is docked at Ketchikan's Berth 3 in 2018. (KRBD photo by Leila Kheiry) A state...
by Jacob Resneck, CoastAlaska | Apr 23, 2019
Alaska and British Columbia agreed to cooperate over transboundary mining in 2015. Lawmakers are urging the Dunleavy administration to pick up where the Walker administration left off.
The Anchorage Assembly chambers at the Z. J. Loussac Public Library in Anchorage. (Staff photo)...
The two leaders met Thursday to discuss denuclearization and sanctions. No major agreements came...
The 76-year-old former vice president and Delaware senator immediately becomes a top contender for...
According to a new NPR/Ipsos opioid poll, 71% of Americans surveyed also say the government should...
SCH August18
UAS Regional
Silver Basin Logo
NOAA_BUTTON
latest_newscast
Community Calendar