by Katherine Rose | May 16, 2019
After considering cuts from one department and increasing rates for another, the Sitka Assembly is closer to passing next year's city budget, but the process that has spanned months isn't finished yet.
by Jacob Resneck, CoastAlaska | May 14, 2019
House lawmakers have approved adding 250 acres to Funter Bay Marine Park. It includes historic graves of Unangax villagers that perished in the Southeast internment camp during World War II.
by Katherine Rose | May 14, 2019
The end of municipal budget season is near, and after several special budget meetings in April, the Sitka Assembly is reviewing next year's municipal budget at their regular meeting this Tuesday (5/14/19).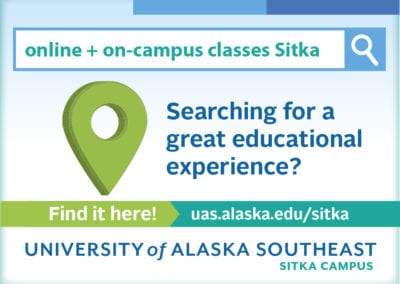 Raven Radio is hiring a Program Coordinator! This position is responsible for making the radio sound good, and works closely with the General Manager on curating KCAW's on-air content. We're looking for an enthusiastic, self-motivated person to join our team - is that you?
Inspired by legendary jazz vocalist Bobby McFerrin, Derek Brown transforms the saxophone into a multi-voiced percussive instrument. He'll play 7 p.m. this Friday, May 17, in the Odess Theater.
Next weekend marks the 34th annual Julie Hughes Triathlon. The race is a tribute to Julie Hughes, a high-school swimmer who died of leukemia in 1985 at the age of 15.
SCH Tile
UAS Regional
Silver Basin Logo
GardenShow_logo
NOAA_BUTTON
latest_newscast
Community Calendar