SITKA, ALASKA
1953. Winter.
The Coast Guard Cutter Northwind is on patrol in the Bering Sea. David Irons, 22, is a storekeeper – the payroll and requisitions guy, basically – aboard the 269-foot icebreaker.
"And we were frozen in the ice, some place north of St. Lawrence Island, and I remember a PBY came out and dropped us mail," he said. "And I decided those suckers are going to be home in a nice warm bed in four hours. That's for me."
Irons's 31-year career in the Coast Guard moved quickly, beginning with Coast Guard officer candidate training in 1956.
And somewhere in that montage of assignments was Sitka. Irons was the first Commanding Officer at Air Station Sitka, serving from October of 1977 until June of 1978.
Now, in May of 2011, the 80-year-old retired captain is walking back into the hangar, where he comes face to face with the Air Station's two Jayhawk helicopters.
"I did not have an opportunity to fly this airplane," Irons said. "Beautiful machine."
A huge electrical cable comes out and plugs into the side of one of the helicopters, so Irons can get a look at the cockpit with all of the flat screens and gadgets lit up. It's vastly different from the Sikorsky H-3 helicopters Irons flew during his career.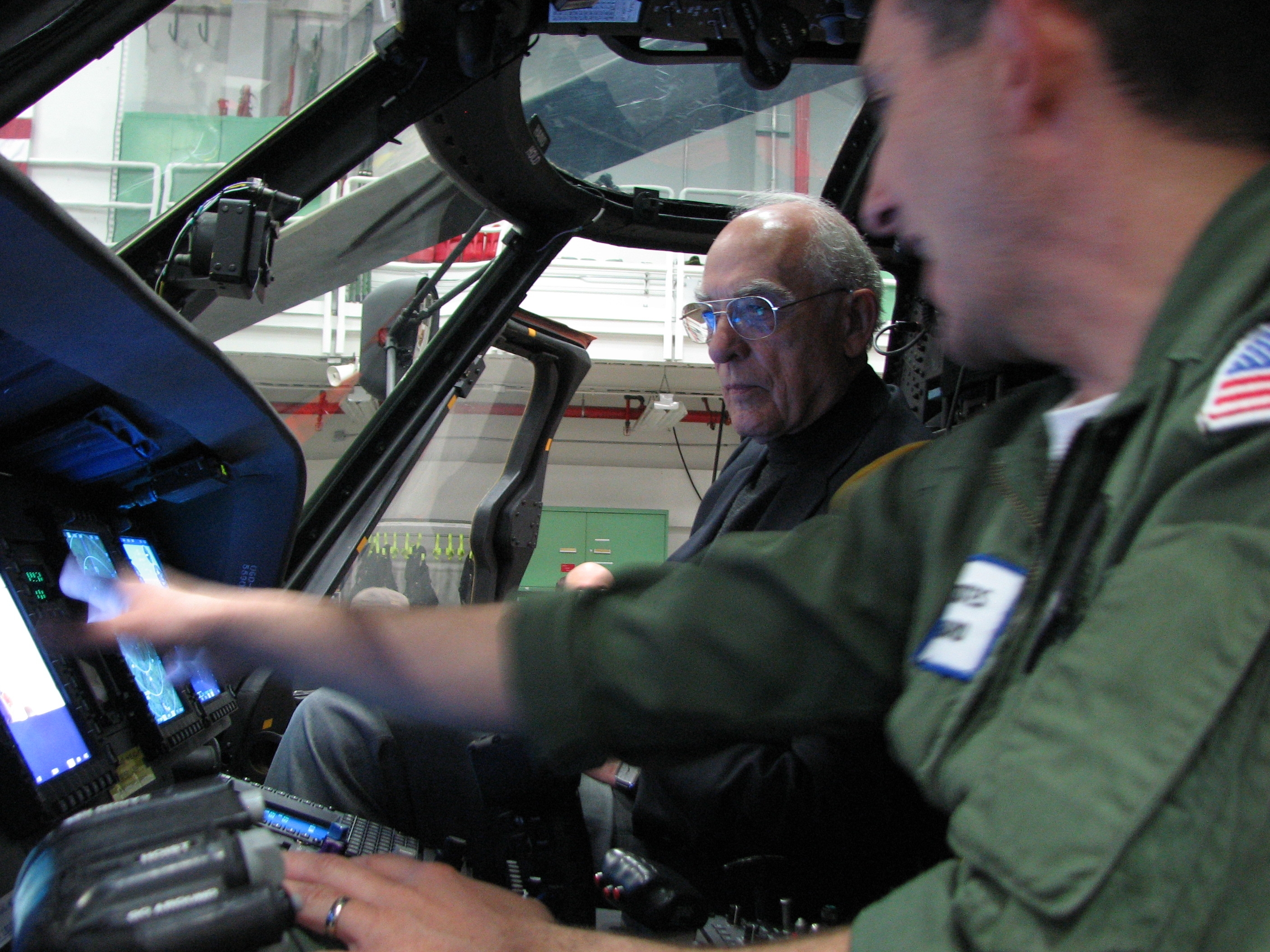 It's too noisy to hear what's going on in there, but there's a lot of gesturing and smiling as Lieutenant Josh Tabor explains the controls. I think I hear Tabor explain the auto-pilot and then Irons asks, "If they have autopilot, where do they get their fun?" with a smile on his face. After a good long time, he climbs out of the cockpit easily.
"There's absolutely no resemblance between that and the H-3," he says.
But if the technology changed, the job hasn't. It's still all about rescuing people in distress. And Irons has stories the current crew at Air Station Sitka hasn't heard, including one about a flight that went down off Biorka Island on Oct. 22, 1962. A Northwest Orient Airlines DC-7, chartered by the military, was enroute from McChord Air Force Base in Washington to Elmendorf in Anchorage, when three hours after take-off, the pilot began having trouble with one of the propellers.
At the time, Irons was stationed on Annette Island. His crew rendezvoused with the plane in the air and followed him until the plane ditched in the water near Biorka. There were 102 people aboard.
"They all climbed out on the wings and got into life rafts," Irons says. "There was a baby that swallowed sea water in the bottom of one of the rafts. The only injury in the whole thing. And the baby turned out fine."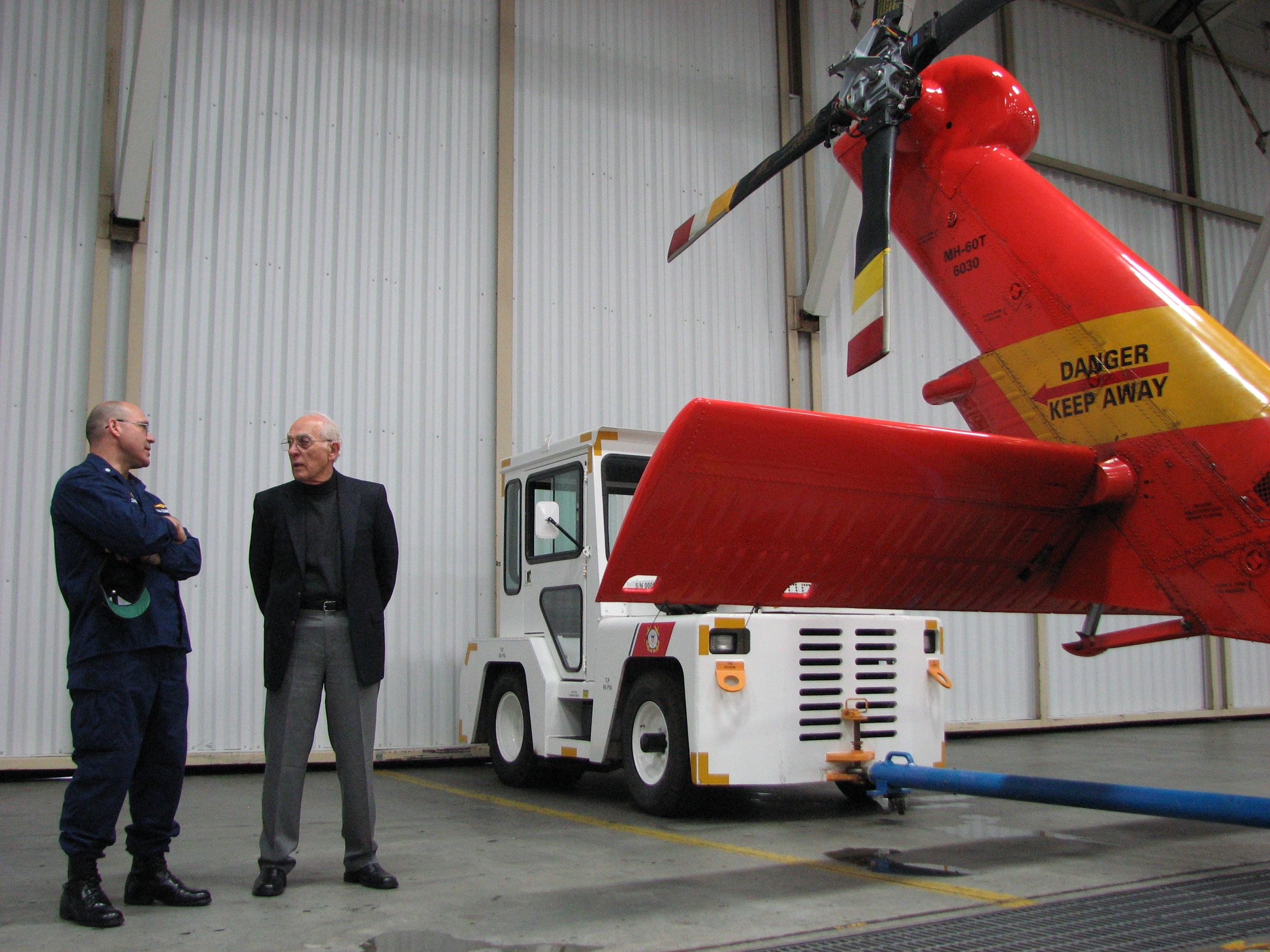 Commander Doug Cameron now holds the job Irons once did – commanding officer at Air Station Sitka. In the narrow hallway outside Cameron's office are photos of everyone who's held the job.
"You can't make the walk to work every morning and not wonder who they are, what they were like, where they are now," Cameron said. "Am I standing up to the legacy of those who've gone before me? And of course the one that will always get people's interest is the person who was first. What was that person like? And what was this unit like in the beginning? When I got a message that he was coming, and would be interested in having him come to the air station, I was jumping at the chance. It's pretty cool."
Irons says the feeling — that it's pretty cool — is mutual.
"I can't even describe the pleasure and how it feels to be able to come back and take a look around at the station we established 30-odd years ago."
© Copyright 1970, Raven Radio Foundation Inc.