The Sitka Fine Arts Camp had its "best year ever," according to camp director Roger Schmidt.
But, as Schmidt told the Sitka Chamber of Commerce this week (9-6-17), he's been saying that every year since he took over the management of the camp in 2000, when the summer session lasted 10 days and served 60 students.
This year, there are programs at the camp 360 days, with nearly 1,000 participants from age 6 to senior citizens.
Campers hail from 44 different communities around the country, with 84-percent of them Alaskan.
Schmidt said that having young people form bonds with Sitka will pay dividends for years to come.
"So we feel that having kids have formative experiences in Sitka, building strong bonds, bonds them to Sitka. And as they become future leaders, they'll always be thinking about Sitka as a location, how to do things with Sitka, how to make business with Sitka, how to make community with Sitka. And I don't think we ever want to lose sight of how important those formative relationships and positive experiences are."
The camp has been a magnet for fundraising. Schmidt told the chamber that it's raised and spent roughly $1 million dollars a year since 2011 renovating the former Sheldon Jackson College campus, with a priority on news roofs for the historic buildings of the quad.
The current roof project is Sweetland Hall, which Schmidt described "as our biggest one yet." His rationale for donors is: "Give us a new roof, and we'll have 50 years to figure out the rest."
The campus he inherited in 2011 was boarded up and out of time. He said that he had stopped driving down Jeff Davis Street just to avoid looking at it.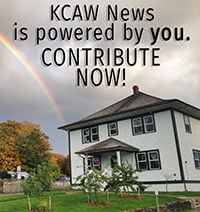 "Because what I saw was a symbol of defeat in a community that I grew up in, a community that I chose to raise my children in, a community that all my family lives in. I don't like symbols of defeat. I'm just like you I hate to see Sitka struggling. And when we see something that looks like we're failing at that sucks. It sucks on such a deep level."
Schmidt reeled off a litany of capital projects on campus this year — everything from a new, lighted parking lot at the Hames Center to a new porch for the Yaw Chapel. He noted that the camp has 14 full-time employees, 134 seasonal employees, and managed the Sitka Performing Arts Center.
As he's done before, Schmidt waxed eloquently about the significance of the PAC for Sitka's youth — to be seen and heard by a community that cares about them — but he's updated his observations about the significance of the variety of performances staged or sponsored by the camp throughout the year.
The arts are not just about supporting the young.
"Like many of you I work a lot of hours every day. And going to a show may seem like a frivolous thing. I guess that many of you are in the same place in your life: It's evening, I've got 10,000 obligations. Like hec I'm gonna go to this concert or this thing. It's so important to understand what these shows are doing for people who don't have a life that's keeping them busy more hours than they want. And what it does to help them still feel a part of Sitka, and part of a community."
Although he said the Sitka Fine Arts Camp still had a long way to go, Schmidt said he felt it was a success. In a room full of Sitka's best business minds, Schmidt — a performance trombonist himself — admitted that he would never be among the upper echelon of the world's musicians. "If I wanted to play music," he said, "I had to become a problem-solver, I had to make business connections. I had to make business."