by Katherine Rose | Jun 21, 2019
Sitka jewelry artist Jennifer Younger has been creating pieces for only the past few years, but in that time she's garnered a local following for her work that blends traditional metal carving with her unique style.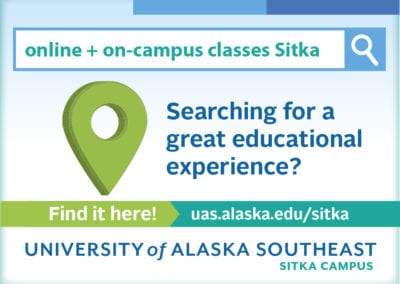 Ed Littlefield and Roger Schmidt join KCAW's Rich McClear in the studio. Littlefield and Schmidt are local musicians playing in this Saturday's Jazz on the Waterfront event from the Sitka Fine Arts Camp.
Dr. Adam Booth, Kyle Turchick, Bryce Vascik and David de Guzman joined KCAW's Rich McClear in the studio for "The Morning Interview" to discuss ecosystem dynamics research and their various landslide projects.
Violinists Allison Bailey and Helen Kim join KCAW's Rich McClear to talk about the specific dynamics of playing chamber music, and why it takes the right group of people to play it best.
Mike Morris joined KCAW's Rich McClear to talk about a new boating course at the Coast Guard Auxiliary. The introductory 8-hour class covers a range of topics like trailer-ing, rules of the road, emergency procedures, how to pass a vessel exam, and so much more.
SCH Tile
SSMFWebTile19
UAS Regional
GardenShow_logo
NOAA_BUTTON
latest_newscast
Community Calendar